In the period of booming growth after World War II, the consumer sector and mass media exploded. And long before rank-and-file employees and executives were being rewarded for great results and hard work with stock options, profit sharing plans, or even company trips, "the company watch" became a symbol of achievement and service for American professionals.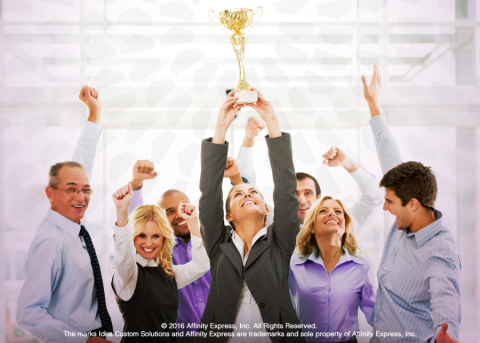 Since the 1950s and 1960s, the demand for watches combined with consumers' taste for luxury and individuality have elevated this accessory to a must-have for many. Meanwhile the emergence of high-quality, low priced goods makes a name brand watch an accessible purchase for nearly every consumer.
Nevertheless, as businesses of all sizes continue to grow, their dependence on skilled employees remains a reason for them to adequately recognize and reward key employees. Today, the company watch might be a relic of the past, but there are many other options for rewarding employees.
Trophies, Plaques and Awards
"Celebrating your employees", as Entrepreneur called it last year, seems to be more than just a good deed. According to a human resources study cited by the publication, recognizing or rewarding people in a substantive way — meaning by means other than financial bonuses — accomplishes several objectives:
90 percent say it positively impacted engagement.
86 percent say it increased employee happiness.
84 percent say it improved employee relationships.
68 percent say it positively impacted retention.
Last month, the Advertising Specialty Institute (ASI) highlighted "8 awesome awards" that businesses, non-profits and educational institutions can use as awards for their professionals. More popular choices in this relatively traditional category of promotional products include high-quality crystal and glass trophies, gilded awards that look like football trophies or Academy Awards, as well as wood-and-pewter wall plaques and shimmery banners.
All of these options work for conventional corporate businesses including financial and law firms. Meanwhile, sales-oriented organizations such as insurance and stock brokers and manufacturers can reward sales reps for hitting quotas or other achievements. Even small businesses can demonstrate appreciation for their best workers with awards for good service or long tenure.
Other Rewards and Perks
It could be generational, but some companies that employ large numbers of people under the age of 30 have discovered that "cool stuff" works too. In the minds of Generation Y or millennials, meaningful "rewards" may have much less to do with bragging rights or shiny plaques than it does with receiving practical items for everyday use.
For example, the in advertising sector, "agency welcome kits" are special part of joining creative teams or account service departments. Digiday writes that these branded sets usually include wearables such as caps, t-shirts and hoodies, which couple well with useful items like coffee cups, headphones and earbuds. Also, stationary and tote bags stamped with firm logos or brand marks not only make great gifts but also double as free marketing for the agencies themselves.
Following the same welcome and reward first logic, social media giants Twitter and LinkedIn opt for the "swag bag" route, loading up new recruits with branded items on day one. "Twitter is far from being the only tech company to offer freebies to new employees," wrote Lisa Eadicicco for Business Insider last spring. "New LinkedIn employees, for example, get a swag bag with a water bottle, a notebook, and a copy of LinkedIn co-founder Reid Hoffman's book The Startup of You. Of course, part of the psychology is to get employees excited about their new employment and to buy into both the company's mission and living brand.
That said Fast Company points out that branded gifts don't have to be offered as a quid pro quo reward for achieving something, nor as a welcome gift to be effective. In an August 2016 post about corporate event marketing, Fast Company noted that "throughout the year, Paul Marobella, CEO of Havas Worldwide, will randomly hand out gift cards to people wearing company swag each month," encouraging company spirit to engage workers.
As a resource to promotional products distributors everywhere, Idea Custom Solutions knows that small and medium-sized businesses (SMBs), as well as bigger corporations are always looking for smart, cost-effective ideas to promote their brands. Talk to your business, education and non-profit customers about how rewarding and recognizing employees can build brand equity. And look to us to help design, convert or digitize your customers' logos for production!