Just over a week ago sports history was made. After 108 years without a championship, the Chicago Cubs won the World Series, in a contentious and exciting seven-game battle with the Cleveland Indians. We knew before the first pitch was thrown was that sports excite people.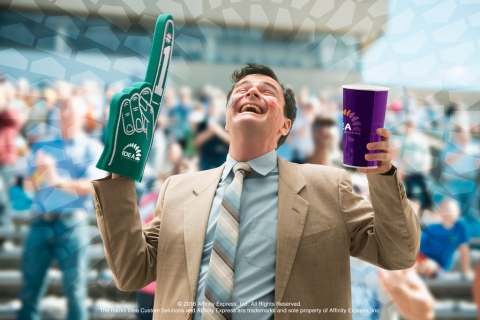 That's probably why suppliers of t-shirts, caps and other garments have always seen steady business in wearable promotional products. Small and medium-sized businesses (SMBs), as well as larger brands, know that consumers love sports. There is often no better way to get the word out about businesses than to link them to home town favorites.
As promo magazine pointed out in an article recently, merchandise for the Chicago Cubs has sold five times more this season than that of other Major League Baseball franchises. Despite last week's celebration parade, which was allegedly the 7th largest gathering in human history, promo magazine contends that the rise in sales isn't because the Cubs have the most fans. It has more to do with the excitement around a momentous event.
"It's not just that there are more Cubs fans than other fans. It really does have to do with fans rallying behind a potential World Series win. Over the last two years, sales have more than doubled each year for the Cubs, and the Indians saw an increase of 269 percent this year over last year."
However, it could be that being on an upswing has something to do with it.
"The statistics also showed that teams that did better during the regular season moved more branded items online. The Indians, for example, saw 62 percent of its merchandise sales in October alone," promo magazine wrote.
Earlier this year, the Advertising Specialty Institute identified a similar scenario at the end of "March Madness", the NCAA men's college basketball tournament. The eventual victor Villanova won its first championship in 31 years. While they didn't sell as many shirts as the Cubs, what did happen is that SMBs — especially those in the greater Philadelphia area — tapped into the momentum of enthusiasm for Villanova basketball's landmark season. Businesses such as TD Bank offered everything from buttons to pennants, and Dunkin' Donuts even released a promotional branded Dunkin/Villanova perks card.
Across the country in Texas, Ford Motor Company this fall issued a limited edition version of the Ford F-150 emblazoned with the Dallas Cowboys' logo and blue-grey color scheme of the Dallas Cowboys. This line of America's best-selling vehicle was available only in Texas, catering to the fandom and tastes of football fans in the Dallas-Fort Worth area.
Back in the northeast, the Pittsburgh Steelers are known for having created one of the best promotional products of all time. The "Terrible Towel", a simple yellow hand terry cloth towel is and ever-present sight at Steelers games, spun in hand by fans as a part of every rally.
Likewise, Customer Think pointed out in a piece written just a year ago that customers and fans are often one in the same. Not only have pro teams like the Seattle Seahawks dug in to rally fans and their customers with wearables, wearable makers like Teespring have gotten in the game.
Most importantly, it's not just sports teams that benefit by tapping into sports enthusiasm. As ASI points out, SMBs can greatly boost visibility and the name recognition of their brands by "getting in the game".
Beside pro sports, high school and local college sports are a great way to spread SMB brands with giveaways like spirit wear, classic foam #1 fingers, and sport bottles, which consumers save and use regularly.
Whatever you recommend to your customer, from wearables to hard goods, we've got you covered when it comes to the embroidery digitizing, vector artwork or other graphic design support you need. Standard turn times are 24 hours and we offer competitive flat rates for services