The fanny pack has long been thought of as, at best, the quintessential accessory for the fashion-challenged. According to the New York Times, by the mid-1990s, the fanny pack became little more than "a punch line — something so excruciatingly dorky that even Weird Al Yankovic made fun of them."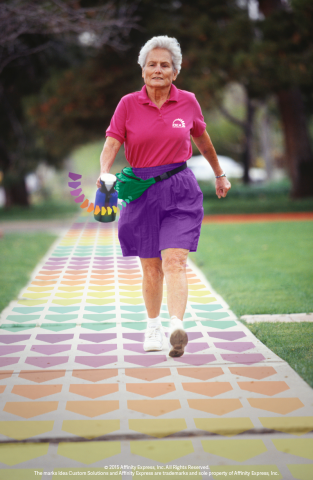 Worn by tourists the world over, the fanny pack — essentially a mini-handbag that one can affix around the waist — was designed for both convenience and utility by travelers. Keeping safety in mind, the American Automobile Association reinforces in its "5 Safety Tips for International Travel" that keeping your money, passport and other essentials in a front pocket is a best practice. For those who don't like to stuff their pockets, the fanny pack lets them load up in comfort, with easy access to everything.
Certainly fashion trends change like the direction of the autumn wind. As such, what was considered "nerdy" or dorky a few years ago — or even a season ago — can be the cutting edge of fashion now.
Last month at the Milan Fashion Show, Gucci's creative head reportedly flooded the catwalk with "geek chic", as models strutted the latest high-priced haute couture while wearing large glasses, ostentatious neckties and accoutrements that might conjure up thoughts of "Revenge of the Nerds" more than Vogue's September issue. Often, what hits Saville Row eventually finds its way to Main Street. Appealing to customers and future customers, SMBs shouldn't be afraid to tap into to changing trends.
Idea Custom Solutions has, in past big posts, covered the ways that consumer preferences are changing for promotional products. We know that freebies at trade shows have expanded well beyond analog favorites. While trade show attendees still love to grab free pens, mugs and wearables like caps, they also covet tech items, from the simple USB drive to logoed smartphone chargers and even headphones.
At the same time, we know that some businesses and non-profits know the tastes of their audience very well. Fashion and tech trends aside, National Public Radio knows that its devotees still love the NPR branded tote bag.
Sure some of the fanny pack's revitalization might come from celebrities showing off this formerly geeky piece of swag's newfound swagger. But it's not just celebs and tourists wearing and using them.
As a result, the fanny pack has made a comeback. "While not large," University of Alabama writer Savannah Sendek said, in 2015 "the Fanny Pack has enough room to hold a cell phone, wallet, keys, (and) extra makeup." With these bags, "people can carry all of these things around their waists."
Branded and logoed fanny packs have popped up as promotional items. The Pope's visit to the U.S.. was cause for both celebration and souvenirs, as fanny packs were found to be among the offering of papal promo items, along with medallions, t-shirts, lithographs and other items.
But even before the Pope's visit and 2015's fall fashion picks, our industry and the experts at the Advertising Specialty Institute have been on top of the trend. As Counselor magazine pointed out in its profile this July, the fanny pack has made "a huge comeback." The best part for SMBs and distributors of specialty advertising products is that the fanny pack is about as good as a promo product gets.
Easily embroidered like any wearable, fanny packs are useful in more applications that you might think, even for those not that into "geek chic".
"They're perfect for yoga studios, gyms, swim clubs, schools and walks/runs," says Christine Santori, a sales representative who spoke to Counselor. Santori pointed out that Editor Gayle King pumped up the fanny pack in recent issue of Oprah's O magazine, calling it the "perfect accessory."
So, whether you hope to tap into the new appetite for retro fashion and geek chic, or you just want to offer promotional giveaways that are useful to everyone who your customers contact, the fanny pack might just be the right giveaway for their next industry conference, sales call or trade show. Not only has the item made a roaring comeback, fanny packs are also an excellent combination of fashion, anti-fashion, and utility, all in one product