The freebie tote bag is becoming as much of an accessory in American life as perhaps the belt and maybe even shoe laces. This summer, we wrote about its appeal with consumers increasingly concerned about the environment.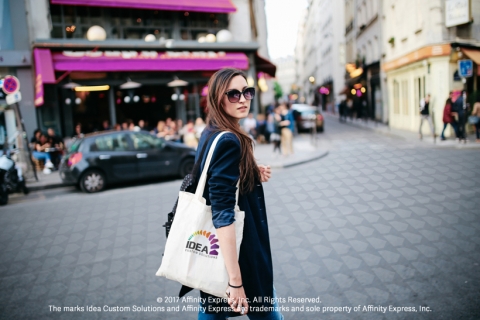 While reusable totes might be a no-brainer for retailers, many businesses use them as trade show giveaways. Yet, outside the trade show facility, some studies have shown that consumers and businesses make buying decisions based on cost as well as by considering options that incorporate their values.
Moreover, because it is easy to feature logos and brand names on totes bags, they are used widely by organizations ranging from public radio programs and television shows to higher education institutions and social causes.
The Advertising Specialty Institute (ASI) points out that carry accessories are great for branding and may be more effective than you might think. Specifically, ASI mentions that "bags and totes generate over 5,700 impressions (2,500 more than the next product category), so it's no wonder they remain extremely popular."
But for some businesses and institutions looking to promote their brands, the tote bag may not be a perfect fit. Distributors of promotional products should always make sure their business customers know that these accessories come in a wide range of options.
If your customers consist of services firms, tech companies, schools and professional associations, or even small local businesses, they may prefer carry accessories that have higher style or last longer. Just ask!
This summer, ASI addressed this topic of style in a post on their website called "Bags With Style". Among the options available which can be imprinted or embroidered with logos are bags made of leather and high-quality canvas, which also come in waterproof variations. Even better any business or non-profit can take advantage of different styles. There are more formal "all business" options like briefcases, or even sporty looks with duffels and sport bags.
The items ASI highlights in the category such as canvas-twill messenger bags, canvas "modern" briefcases, sports duffel bags, as well as more formal and dressy bags in the "tote" shape, are all great ways to get SMB and corporate logos out there.
Additionally, companies with sales forces — such as real estate firms, software and technology companies and financial firms — can outfit their traveling sales forces with branded luggage. The same goes for service companies that fix things. Plumbers, air conditioning and heating technicians, painters, and others all carry not only tools and materials but also documents and other belongings to and from job sites or service calls. There's probably no better way to reinforce companies' reputations and brands than to emblazon them on what their employees carry every day.
Idea Custom Solutions is an ideal partner for promotional products distributors and decorators. With our expertise in vector artwork and embroidery digitizing, no matter what items your customers choose, we provide high-quality files to ensure their logos stand out.