By 2021, research firm Cybersecurity Ventures expects financial damages from cybercrime to small businesses will reach a cost of $6 trillion. We hate to break it to you, but promotional products companies and other small businesses are a prime target for malware. In 2017 alone, 61 percent of small- to mid-sized companies surveyed experienced a cyberattack in the past 12 months. It's a pervasive problem — one most people never expect to happen to them and that often results in no action being taken to actually fix the problem, studies show.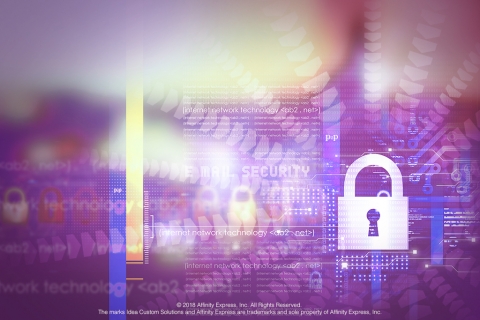 "[Cyberattacks] represent an existential threat to some small businesses as firms could go bankrupt from the costs [of] responding to a cyberattack, or from the lost revenue and costumers resulting from a business disruption," Daniel Castro, the vice president of government think tank Information Technology & Innovation Foundation said during a recent hearing reported by Entrepreneur.
Never fear, though. The promotional products industry may be prone to more cyber attacks than industries with higher percentages of larger companies, but we don't have to be victims to it. Here are some effective ways to stave off the possibility of cyberattacks on your business.
Pick the Right Passwords. First, you'll want to password protect everything, including phones, files, computers and tablets — essentially anything where someone could get ahold of company information. But you should also make sure the passwords are effective and difficult to guess. Use special characters, a mix of upper and lower case and a combination of letters and numbers. The more complicated passwords are, the harder it is to guess or deduce them.
Train Everyone on Cyber Security. The best place to start when teaching your staff about potential cyberattacks is at the beginning: the basics of cybersecurity. If they at least have a general knowledge of what security methods are available and why they're necessary, they may be able to stop hackers in their tracks without even realizing it. Train them on cyberattack prevention as well, including what phishing emails look like and how to determine whether something is coming from a reputable source. A good tip is to always check sender email addresses. If they don't make sense, they are likely to be scams. Another important thing to remember (for which your staff may need tailored training) is to stop leaving electronic devices out and about wherever there are charger cables or plugs. The easiest access hackers or criminals have to the information on devices is through the physical devices themselves. If you go to conferences, remember to bring a portable charger rather than parking your phone or tablet at charging stations. You never know exactly who will go snooping.
Travel Smart. Heading to a trade show out of town? Work information and data is even more sensitive to hacking when you're on the road instead of in your office. Be wary of public Wi-Fi networks and borrowed chargers. Both can be hacked quite easily or have malware installed to infect your devices. The best solution for any work travel is to only bring what's relevant to the job you're going to do. Leave everything else at the office. Make sure what you do have with you is password protected and those passwords aren't saved in your browser or listed in your emails.
We hope you found this information helpful and take steps to protect your company. Whether from your office or while on the road, think of Idea Custom Solutions when you need vector artwork, embroidery digitizing, image editing and other graphic services you can rely on. Unlike many providers, we are ISO/IEC 27001:2013 certified for information security, so your files and data are safe with us!