At Idea Custom Solutions, we love talking about branding, as well as the different ways that small- and medium-sized businesses (SMBs) can stand out in very competitive markets.
No matter what sector companies are in, the logos and identities of their businesses matter. This goes for everyone, not just the megabrands. Logos are often the first images that pop up into customers' minds — and what keeps companies top-of-mind.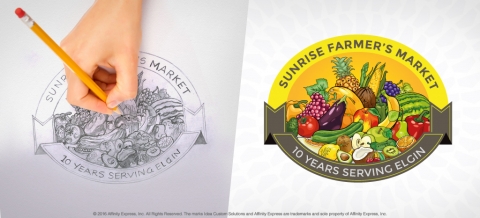 Additionally, when it comes to putting logos on products that will get the names and images of your customers out there — promotional products, marketing collateral and even websites — quality logos are essential.
Last month, the trade publication Printwear was asked point blank, Is the $5 logo "too good to be true?" According to the magazine's experts, websites that offer their "corporate logo designs" on the cheap also tend to come with pitfalls that are not worth the money people may save.
Specifically, discount sites are known for delivering logos that are knockoffs of ones used by other small businesses, non-profits and even major corporations. In one instance, another test found that discount site designers have literally copied the work of other logo designers.
Certainly, when entrepreneurs start businesses, there are enough challenges already. Involvement in a trademark infringement lawsuit whether you are a small niche firm or large corporation isn't exactly recommended as part of the business plan.
Whether your customers are small shops that sell everyday items to everyday consumers or are business-to-business (B2B) companies with specialized services, name and identity are their calling cards.
Take coffee. For some of us this centuries-old concoction is a daily necessity. Coffee can be bought on every corner and is offered both as a commodity and a gourmet specialty. According to online publication Logoblink, their 36 famous coffee logos include high-end brands like Starbucks, Illy and Lavazza, as well as east coast convenience store Wawa and even Juan Valdez himself. All of the logos exhibited blend bold colors, eye-catching fonts and shapes in designs that aim to stand out and make strong impressions.
That said experts on logo design point out that great logos are more than combinations of spiffy fonts with vibrant colors wedged into circles or squares. Melissa Emerson, a contributor to the Huffington Post writes that, just like starting a business, branding is about demonstrating company core values.
"Your brand includes your company, products, and services. What does your business stand for? What are the values you hold?" Emerson asks. She also points out that, when it comes to representing brands and ideals within logo designs, picking the right colors can cause "varying physiological reactions, so make sure you know what emotions you want to invoke."
She also says it is important not to think about logos as isolated elements. "Give some thought about how you will create a look for business cards, letterhead, envelopes, folders, signage, and other corporate branding materials. All of these should have a consistent logo and tag line."
Along those lines, good design partners will ask all the right questions about the businesses and target audiences. SMBs should pick fonts or typefaces in logo design sets that speak to their styles and those emotions that Emerson mentioned.
Many of last year's more notable changes put forth by large multinationals confirm clearly that fonts do matter and contribute to the effectiveness of logos. Moreover, mistakes in branding and logo design are common, but can detrimental enough that it can cost SMBs customers or cause them to fail to realize their brands' potential. 
For many busy entrepreneurs, just the idea of thumbing through hundreds of fonts and picking the right ones or whipping up colorful original designs is daunting.
By partnering with Idea Custom Solutions on logo design, you will get for your business (or for your customers), unique custom designs done by graphics professionals, who are full-time employees. And you will own the copyright. This caliber of logo design (which happens to be fast and cost-effective as well) sets the stage for you to build relationships for the long-term.