The 2018 Pyeongchang Winter Games may be wrapping up over the next week, but for some promotional products companies, the benefits will be felt for months. This season's competition, as is common with the games, has led to a boost in Olympics-branded merchandise sales.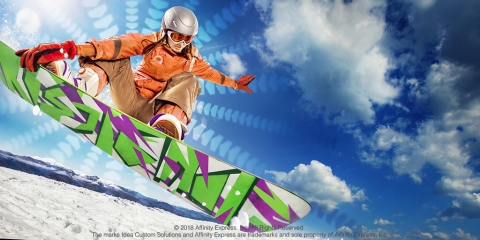 Staples Promotional Products, one of ASI's Top 40 distributors, told Counselor it's been a banner year for the swag; the company has sold branded merch to several major clients including Visa, Coca-Cola and United Airlines. In particular, Toyota has been a huge partner for Staples, selling co-branded Olympics and Toyota gear including key fobs, lapel pins and apparel.
"Toyota has been very engaged with TV ads and the athletes they are sponsoring, which has also led to significant merchandise sales," Rich Witaszak, vice president and general manager of Staples Promotional Products, told Counselor.
Sports retailer Fanatics has seen a significant boost in Nike and Team USA branded gear too, especially with jackets. The company handled merchandising for the U.S. Olympics Committee and told Reuters it sold thousands of the Team USA jackets since the beginning of the Games, but the snowboarding competitions jumpstarted a whole new level of sales. When Chloe Kim and Shaun White both secured their gold medals, fans scrambled to get the same apparel the snowboarders were wearing: $800 spacesuit-inspired Burton jackets that are now out of stock.
"As soon as White's performance happened on the half pipe, we saw the immediate demand come in for snowboarding," co-president of Fanatics direct-to-consumer business Jack Boyle told Reuters.
Compared to 2014's Sochi Games, sales numbers show a huge 80 percent boost overall in branded merchandise this year. Fanatics attributes it to a larger selection of goods available that have been approved by the U.S. Olympics Committee.
One of the top selling Olympics-branded promotional items? A $45 brass Team USA Cheering Cowbell. Because even in the Winter Games, there's always room for more cowbell. A $90 one-piece branded pajama has also emerged as a top Olympics seller; it made an appearance on the Today show and, as a result, Fanatics has had to reorder batches of the garment four times.
One category doesn't do so well in the booming Winter Olympics sales landscape, though: footwear. According to Footwear News, it's for a mix of reasons. Although the Olympics push a lot of fans into a pattern of being more active, that doesn't necessarily happen during the Winter Games — mainly because it's either cold out or you're in a location that doesn't have winter sports capabilities or facilities. That reality plus the fact that the shoes aren't practical for consumers to wear equals less demand.
"None of the sports in the Winter Games feature footwear that consumers wear, so there is really no leverage point," Matt Powell, senior industry advisor of sports at The NPD Group, told Footwear News. "Athletes that compete in the Olympics [do so] at such an elite level that the average armchair athlete does not even compare themselves."
If you want to get in on the Olympics merchandise craze for the next set of competitions, check the rules for selling Games-branded items and then call Idea Custom Solutions to help you with the vector artwork and embroidery digitizing to make your customers stand out and compete!