It's the spookiest time of the year! Halloween is more popular than ever and is you haven't started your seasonal marketing campaign already, you may be missing out on All Hallows Eve-fueled sales. Here are three ways to add some eerie flair to your marketing.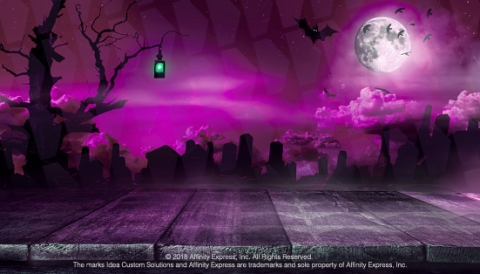 Host a Costume Contest. Utilize your social media accounts for this one. Have your followers submit photos of themselves wearing the best Halloween costumes they can devise and hand out a basket full of branded merch to the winner.
Invite Trick-or-Treaters. This can be done online and in person. If you have a storefront, be sure to hand out bags of candy to costumed kids during your neighborhood's trick-or-treating event. Or if you're just online, hide little pumpkin icons throughout your website and attach each one to a coupon code, similar to what jeweler Kendra Scott does. Your customers can mention the coupon code when buying to get a discount on their orders.
Get Scary Online. Wherever you have an online presence, deck it out with Halloween-themed colors and images. Think holiday puns in newsletters, changing your homepage colors to black and orange and posting seasonal social media updates. You can even change your profile photos on social to be pictures of employees in their most festive attire.
Here are three companies who are making the most of Halloween:
Ghoulish Goals: Lush. Cosmetics and bath products retailer Lush loves Halloween. Every year, it releases a limited-edition line of products. This year includes a Monster's Ball bath bomb and a Sparkly Pumpkin bubble bar. But for the 2018 Halloween season, the company's marketing department has truly outdone itself. Lush recently released four horror movie-themed promotional videos for Halloween to promote the newest product collection. "Cream" is based on the film "Scream"; "Shyco" is a spoof on "Psycho"; "The Hair Witch Project" riffs on, you guessed it, "The Blair Witch Project"; and "The Lushing" is a creepy cosmetic take on "The Shining".
Ghoulish Goals: Nissin. Instant ramen royalty Nissin is hoping to help you wow everyone at your Halloween party this year with themed costumes. On October 4 (it was National Noodle Day), the company launched an entire swag site dedicated to Top Ramen and Cup Noodles apparel. However, the absolute best is the actual Halloween costume of Cup Noodles. And don't worry, you can get a matching one for your company's resident pooch as well.
Ghoulish Goals: Universal Studios. Like Fright Fest at the Six Flags Great America in Illinois, Universal Studios also hosts an annual Halloween extravaganza: Halloween Horror Nights. Every year, Universal releases exclusive swag to go along with the event. It's wildly successful, riffing on popular horror films and television shows. This year, the merch includes "Stranger Things" clothing and accessories, "Halloween" shirts, "Chucky" shirts and posters, and mash-up swag featuring major characters from scary stories.
When you sell customers on creative Halloween marketing campaigns or develop one for your own business, reach out to Idea Custom Solutions for help on the vector artwork and embroidery digitizing you'll need to decorate promotional products. We can even produce custom artwork and layouts that will dress up t-shirts or posters! Learn more.