Every year, billions of customers search Shutterstock's database of 170 million images, videos and music, often hunting for something to be used in the film, media and advertising industries. When those searches get analyzed—say by a team of data scientists, content reviewers, and creative professionals — we're left with a wealth of data showing what designs are trending and exploring what we'll get used to seeing in the marketing design world throughout the following year.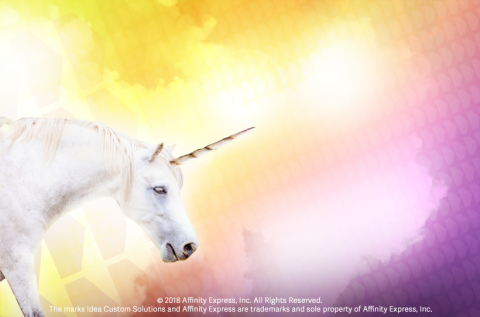 "The data gathered over the past year across images, videos and music helped to determine the standout ideas and concepts that we believe will influence creative direction and design aesthetics in 2018," Shutterstock said.
Those results all come together in Shutterstock's annual Creative Trends Report, and 2018's was just released. Here's what we can look forward to.
Top Trend: Fantasy. Remember the unicorn frappuccino craze at Starbucks not too long ago? Well that colorful splash of fantasy never left — in fact, it's only gotten bigger and brighter. The fantasy genre is expected to make a huge splash in design trends for 2018. Searches for "unicorn" in the Shutterstock database are up by 297 percent from last year. Not to be outdone, mermaids are on the rise too, by 145 percent.
Top Trend: New Minimalism. Minimalism stands the test of time as a trend that always seems to be current, but now the sparse design is getting a bit of a boost from vibrant colors, neon lights and subtle but poignant textures. Searches for "continuous line" rose by 432 percent from last year and "neon circle" (note: this also a continuous line!) is up 387 percent.
Top Trend: Space. The final frontier is making its way to marketing design in 2018 as Shutterstock customers reach out toward infinity. Sci-fi is slamming back onto the scene, spurring searches like "solar" (up 991 percent from last year), "astro" (a 671 percent increase), and "synthwave" (the iconic sci-fi sound, up 494 percent). Only time will tell what the searches will be when we've finally reached tourism-level space travel.
One to Watch: Holographic Foil. Not that it'll be easy to turn away — shimmering colors and a bit of glitz always seem to draw the eye. Shutterstock saw searches for this term rise 435 percent over the last year, meaning we're about to see many more shiny, retro, sci-fi aesthetics.
Surprising: Cactus. It's about to get a lot more Southwest-chic in the design world as searches move from more traditional natural terms (think "marble" and "agate") to include something a bit more prickly: the cactus. Images here cover everything from cute cartoon cacti to authentic photography from the desert. If you want your brand to give an "I'm a survivor" vibe, this is the way to go. Searches for "cactus" increased by 261 percent for 2018.
Obvious: A Global March. Given the political landscape of the past year, it's no wonder searches for activism-based imagery are trending. In fact, "activism" itself saw an increase of 540 percent over last year. "International Women's Day" drew 660 percent more searches as well. There's no sign of these searches slowing down, either — not as long as equality and freedom stay top of mind.
See the entire list in a fun infographic at Shutterstock's site. In the meantime, start thinking about ways to incorporate these new trends into your customers' promotional products and marketing materials. Idea Custom Solutions is your one-stop shop for graphic designs that play off the new trends — so if you're totally pumped that the Lisa Frank-esque logo you created in your spare time may suddenly be popular again, get the ball rolling with vector artwork services. We not only recreate designs in vector format, we can provide custom creative services to bring your ideas to life!
Here is one final international note. If you are curious what image searches are trending in other countries for this year, Japan's keeping it simple with "pink circle," Canada goes old-school with "vintages" and Australia's playing a numbers game with "mathematical curve." The U.S., inexplicably, is searching for a frog named "waxy monkey.