When you think of the National Air and Space Administration, known more famously as NASA, you probably think of names like Neil Armstrong and Buzz Aldrin, the first humans to walk on the moon back in 1969. Perhaps NASA's even bigger footprint conjures up thoughts of America's Space Race depicted by Hollywood in "The Right Stuff" and "Hidden Figures".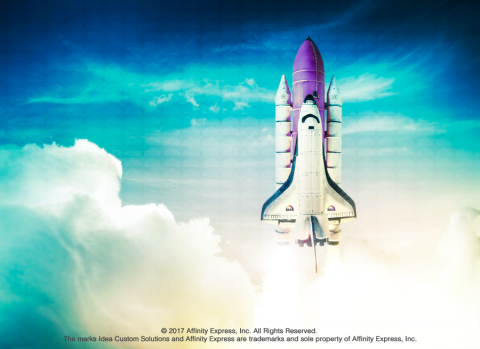 Whether you know it or not, NASA's image and brand are part of a very carefully crafted set of ideas. Originally and during the Mercury mission, in which the USA's first nine astronauts were chosen and chartered into space, tech news site Gizmodo reports, NASA started with "the meatball", a retro space-age logo styled like a "blue planet filled with twinkling stars, a sleek red craft moving beyond its confines, surrounded by an airfoil that seems to audibly pop," The "meatball" was originally adopted in 1959, again finding favor in the early 1990s.
Also during the early years of NASA, which was also known to astronauts and scientists as the "Agency", NASA kept the American public informed though motion picture news reels and press coverage. But as the program moved on from the 1960s the idea of the Agency developing its repertoire and brand beckoned, according to the graphics website Display:
"After the successes of the Mercury and Apollo programs, NASA now found itself in a slump, impatiently waiting for their Space Shuttle program to kick in. There were no automatic headlines for the Agency now."
So in 1974, two designers leveraged a federal grant from the National Endowment of the Arts set out to create NASA's first letter-based logo, with a futuristic new font that would be mimicked in industry, the arts and media for decades.
Eventually what grew out of the initiative was the NASA Graphics Standards Manual, which detailed the use of the NASA logo on printed documents, workwear, astronaut space suits, vans and transport vehicles, and space rockets.
Just like any corporate concern, NASA has rebranded since the 1970s. A renewed interest in NASA's branding popped up in the business press three years ago, when Wired lamented that the original word logo, which it dubbed "the worm logo", was done. Meanwhile Fast Company's Design.Co detailed NASA's way of reusing its retro looks to keep its fonts and brand relevant and beautiful.
What's obvious is that NASA's branding efforts during the Space Race wasn't only about keeping up with the Russians. Clearly, the NASA personnel who were responsible for its design and image were concerned with building credibility with the American public.
The concept of a style guide isn't an idea that should be reserved just for space agencies. Rather, it is a practice that makes perfect sense for both large corporations and small and medium-sized businesses (SMBs) for the simple fact that a style guide sets standards and helps brands grow with consistency. In fact, use of the style guide for big businesses is probably more widespread than you think.
Two years ago design website Canva detailed "50 Meticulous Style Guides Every Startup Should See Before Launching", with examples including guides produced by (and for) large corporations like Google, Cisco and Apple, as well as those used by the Canadian Olympic team, the Calgary Chamber of Commerce, the Irish Red Cross and David Beckham's fledgling Major League Soccer team, the Inter Miami.
Social Media Today, an online magazine which acts a resource for both social media tips and branding ideas, published an article last month that laid out very basically what a style guide is and what purpose it serves.
"A brand style guide is a catalog of the elements in your visual identity as well as a list of dos and don'ts for your business (e.g., how and where to use a logo, tone of voice, etc.)," writes contributor Julie Chomiak. "This document typically includes your logo, fonts, colors and brand voice, and use case examples for each. It's meant to give a quick overview of acceptable ways to present your brand in any medium available."
But Social Media Today suggests that if you are putting together a company brand style guide that it's not the logos, fonts or signage where you should start with. Instead, the brand mission should be first and foremost.
"It's only logical to include your mission statement in your brand style guide because it sets the tone for how your brand presents itself, what kind of customer you're trying to reach and your business's underlying ideals," the author wrote.
Once the mission is set in place, a company can more effectively leverage the expertise of designers and marketing specialists to devise a great logo or expand an existing logo into a set of branding standards.
Whatever visual and branding ideas that might be stirring around in your mind — for your own company or for your customers — look to experts such as Idea Custom Solutions for high-quality, custom logo design that is fast and cost-effective.