No doubt inspired by the full slate of fun branded merchandise put out in years past by other big brands such as Taco Bell, McDonalds and Wendy's, Dunkin' (formerly Donuts) has released its own line of quirky branded swag . . . sort of.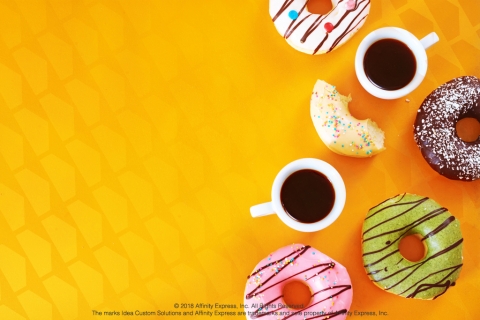 The "merch" was designed for the launch of the brand's new espresso recipe and cup designs. Dunkin' signed on with the ad agency BBDO New York to create the designs, which are part of a new ad campaign called "Sipping is Believing."
Dunkin's new clothing options include: Cappu-chinos, appropriately a pair of chinos with cupholder pockets on either side where cargo pockets would go; Americano-veralls, a pair of jean overalls with a bib cupholder pocket and another on the hip; and the Latte-nk Top, a gray tank with a cupholder pocket where a breast logo would be.
There's only one problem: It's all fake. The drink-themed clothing designs, part of a "line" called Espresso Wear, aren't available for purchase. It's more of a chance to capitalize on the recent branded promotional products phenomenon that seems to deliver so well for other brands, but without actually producing anything. The whole scenario is a shame, though. Comments on the ad campaign are mostly from people either looking to purchase the clothes or wishing they were real. We know we'd definitely buy them! According to BBDO, the brand is thinking about actually producing them, but has made no moves so far.
Want to launch a campaign of uniquely fun branded merchandise with your clients? Tap Idea Custom Solutions for the embroidery digitizing and vector artwork that you'll need to decorate products.