Going to the chapel and we're gonna get . . . tacos? Yep. About a year ago, Taco Bell began letting brand fanatics get hitched at its flagship store in Las Vegas. So far about 60 couples have been married at the restaurant and another 25 are already scheduled for this year.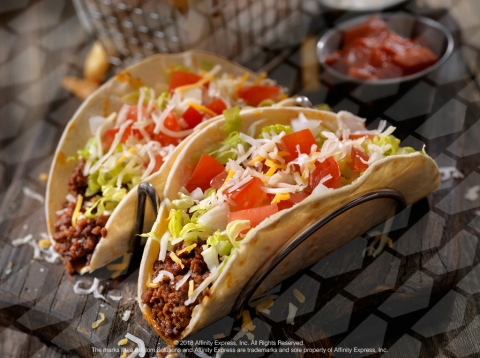 Previously, only couples getting married at the Taco Bell chapel were able to get promotional swag, but now that's changed. The company has decided to release its promotional products offerings to customers on a large scale. Anyone who wants can get it, without having to shell out the $600 required for the wedding package.
"The idea of enabling some of our most fervent and creative fans to express their love (for each other and tacos) with a Taco Bell wedding was certainly our idea of matrimonial bliss. However, the desire we have witnessed this year for Taco Bell weddings has exceeded all our expectations," Marisa Thalberg, Taco Bell's chief brand officer, told Brides. "In just one year, we have had over 60 couples, averaging more than one per week, tie the knot with us at our Las Vegas Cantina. And as we round this anniversary, we are excited to make future ceremonies even bigger and better than before."
The original package includes the chapel space, a reception area, a bouquet made from sauce packets, limited swag and a Cinnabon Delights wedding cake. Oh, and a 12-pack of tacos. Now that the merch is widely available, the great minds at Taco Bell have introduced some new accessories. So what fancy Taco Bell promo swag can you get? A sauce packet bow tie (made with printed fabric so you don't get Fire Sauce on your wedding tux), a sauce packet garter (also made with that fabric, because there could be problems otherwise), matching champagne flutes (complete with the iconic bell logo), and matching Mr. and Mrs. shirts (also with the logo, in tank tops for the women and tees for the men).
Promotional products companies can learn a lot from Taco Bell's success in the wedding arena. Taco Bell loyalists love it because it makes them feel more connected to the company personally and also gives them a great story with accompanying merch. If your company can put together a brand story that holds meaning for your customers' clients, you'll hopefully be able to get the glory of the same reaction.
Contact Idea Custom Solutions today to get all the custom graphic design, including marketing materials, vector artwork, image editing and virtual product samples that you need to help your customers get a taste of Taco Bell's style. And if you can't resist the idea of snagging some swag for yourself, head over to the Taco Shop and get shopping!