A customer's opinion of a business is most often based on an interaction that occurs between the individual and the company's employees. This effectively means that your clients are hiring workers to be ambassadors for their brands and, according to Business.com, "a new customer will develop an impression about your employee (and your business) in their first seven seconds with your employee."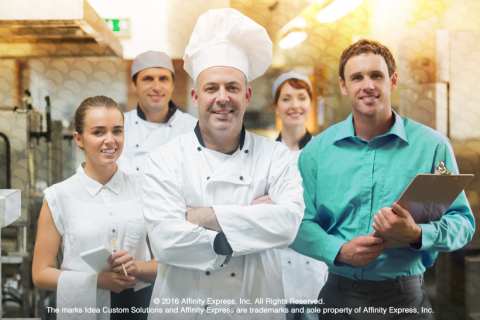 Personality and charisma aside, it is ultimately up to you to ensure that your clients' employees are properly outfitted in uniforms that can nail those first impressions. The industry for uniform production is constantly evolving and, as more brands continue to up their games, you have the perfect opportunity to inspire first-time clients to design memorable employee uniforms and to encourage existing ones to revisit the design of their apparel.
Here are some tips on how to successfully create employee uniforms that will leave lasting impressions.
Pops of Color. According to Taraynn Lloyd, Vice President of Marketing for Edwards Garment, "trends for 2018 in uniform and apron promotions include new ways to showcase your brand's color. This includes multicolor tattersall shirts combined with color-block aprons. The dynamic color combination conveys the brand as a trendsetter, and is a relatively economical way to freshen your existing uniform program."  An excellent example of dynamic color use was when White Castle updated their employee uniforms earlier this year to feature a wide, flat color in royal blue with yellow stitching, as well as retro White Castle logos.
Embellishments. For businesses such as restaurants, bars, lounges and casinos that have "basic style vests," Lloyd suggests creative embellishments, "like colorful trims and unique buttons." This is also an economical approach to putting creative spins on otherwise simple uniforms.
Embroidery. For businesses that require clothing to be functional and protective for their employees, embroidery is the way to go. "Embroidery is the best type of decoration to accommodate rugged workwear, as it is the most durable," says Danny Tsai, Vice President of Merchandising for Tri-Mountain, to Printwear. Rugged workwear tends to be comprised of thicker fabrics, so this type of embellishment can withstand wear and tear on the job, as well as add style to the employee uniforms.
Direct-to-Garment Printing. This design tactic is best for employee uniforms comprised of flat weave fabrics, such as t-shirts. Direct-to-garment printing allows your clients the freedom of creativity — the only limitation being the size of the garments!
Once you have inspired your clients to revamp their employee apparel, look to Idea Custom Solutions for the graphic design you need to make your client's logos on their employee uniforms stand out, including vector artwork embroidery digitizing, vector artwork and more.