If you target or want to target health and wellness companies, the product possibilities are virtually endless when you consider all the events, races and teams they can get involved in to market their businesses. Whether it's sponsoring a 5K race, an intramural sports organization or the local little league team, businesses such as gyms, vitamin shops, athletic shoe stores and more can make their marks with their logos on must-have fitness items.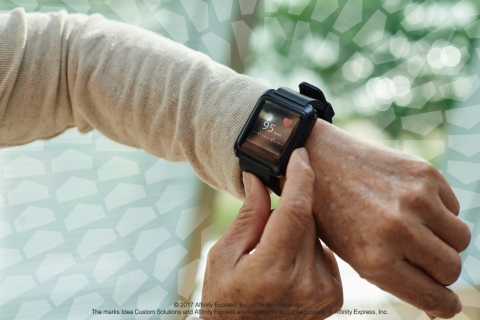 When choosing promo products for sporting events, promo marketing advises companies to "be fun, but also practical," and "dare to be different." Taking that wisdom into account, here's a list of seven promotional product ideas proposed by SAGE that your customers and their potential clients will love, as well as ones that will align with their brands!
Fitness Trackers
The popularity of high-tech pedometers is not dying down. Handing out fitness trackers at sports events as items in swag bags or as raffle prizes is an excellent way to put their brand names at the forefront of the fitness and wellness conversation — not to mention that when recipients are tracking their daily steps, their company logos will be seen constantly along with their step counts.
Drawstring Backpacks
At every race or fitness competition, there is a gear check. Prior to check-in, businesses can hand out drawstring bags printed with their business logos, so competitors can stash belongings before races and have reminders of your customers for the long-run.
Athletic Headbands or Sweatbands
In a survey conducted by Business 2 Community, when promo products are used by recipients, it can be looked at as "an endorsement of sorts by their co-workers, friends, and family, who also become exposed to the brand through the use of the promotional product." What more visible items for logos are there than athletic headbands or sweatbands? At the gym or at the track, they are practically walking billboards. Your customers can have fun and play with neon fabrics or prints that will complement their brands and to be on-trend with current fitness gear.
Athletic Crew Socks
Most, if not all, active lifestyle businesses target consumers that will need socks while they train. Athletic crew sock is a good canvas to artfully display company logos. Just as with the headbands and sweatbands, it's a good idea to incorporate current fashion trends so recipients are more likely to wear the promo products time and time again.
Here's another helpful tip: if your customers plan to be present at outdoor races or sports competitions that include obstacles and mud, handing these out will make them heroes! Most event competitors will need fresh socks once they cross the finish line.
Water or Sports Bottles
There are two things required at every workout: a can-do attitude and a water bottle. At fitness events — whether they are races, games, group fitness classes or pools — it's important for those working out to hydrate. Help your customers select bottles (maybe those in oblong shapes reminiscent of the current, popular S'well® bottle) and add their logos.
Microfiber Cooling Towels
Made from a lightweight and breathable material, the towel is designed for outdoor sporting events and group fitness classes that have participants breaking a sweat. It activates by using only water and allows users to stay cool during the hardest of workouts.
Ice/Heat Packs
Recovery is just as important as training. Customers can give out ice/heat packs printed with logos at marathon conventions, sports expositions or at the finish lines of fitness events.
These are only a handful of ideas for how you can reach out to customers with new ideas and turn promotional products into marketing campaigns that will increase their visibility and keep their brands in the hands of their target audiences.
Idea Custom Solutions can take any volume of vector artwork and embroidery digitizing orders you have from customers. Best of all, you can rely on our quality and turn times, during the current busy holiday season and all year long!