It's getting cold and, in many parts of North America, it feels and looks like winter. You've probably seen your friends and neighbors break out their fall fleece or winter coats, if not their hats and gloves. Winter, just like any other season, presents a great opportunity for businesses to brand and outerwear is the ideal promotional product that distributors can discuss with them.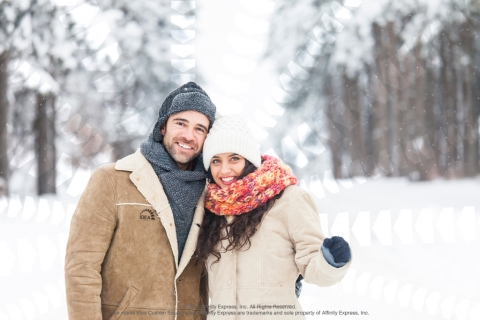 Warming up to Opportunity
What's interesting is that outerwear is about more than just warmth. Outerwear is a promo product category that seems to appeal to all consumers and is a great advertising item for all business sectors, from construction to corporations to event organizers.
Recently on this blog, Idea Custom Solutions reported that "rugged" outdoor products are on the rise. Such products appeal to those consumers who work outdoors as well as those who enjoy camping, fishing, hiking or other leisure activities. Likewise, logoed fleece vests have become much sought after within the technology community, both for savvy institutional investors and tech firm employees. But new products are coming on the scene too, which combine the need for comfort and utility.
For example, there is a growing market for "off the grid" jackets that combine outdoor and techie features, in addition to ones that could be described as more "city casual" tech-friendly outerwear, such as Levi's new Commuter Trucker jacket. Another option is "packable" down jackets, which are ideal for those who travel quite a bit for business or pleasure.
ASI's latest infographic on outerwear shows that jackets, vests and coats are a subcategory of wearables that remain a favorite among consumers. According to ASI's Impressions Study:
Jackets and outerwear have possibly the best "advertiser recall" of any promo product. ASI says that 95% of branded outerwear owners can easily recall the advertisers.
48% percent of consumers report that they are more likely to do business with advertisers that give them logoed jackets.
Branded outerwear is a favorite among upper-income consumers. The Impressions Study states that 30% of branded outerwear owners earn $50,000 or more.
Sizing up Sales
Just like with any promotional product, small and medium-sized businesses (SMBs) want to know their options. By talking about new outerwear products that are popular you can get your prospects and customers excited about seeing their brands worn by the public. Here are a few sales tips:
Provide a variety of options. Showing your prospects different types of apparel — whether that means vests, waterproof parkas, warm winter jackets or fleeces — and a variety of price points is a great start. Moreover, showing a "good/better/best" range in each product category gets gears turning and prompts buying questions. Point to design details such as "color blocking, oversized silhouettes, high-contrast zippers or camouflage" ASI adds, and make sure to illustrate how your customers' selections look as finished pieces.
Discuss style and color. Looking good isn't just for the catwalk at fashion shows. Keep in mind, too, that winter outerwear goes beyond the ski slopes. So when talking to SMBs, highlight features that distinguish each product, ASI says. Also, just because your customers' logos have certain color does not mean the items must be the same colors. For example, a teal, yellow or pink logo goes great on an understated, classy looking black or dark grey garment.
Talk trends. Don't be afraid to point out what is hot. Back to the subject of tech sector fleece vests, Business Insider hints that HBO's hit show "Silicon Valley" reflects and probably influences the tech vest trend. Not surprisingly, Yahoo! News called the fleece vest "the new power tie". Likewise, mentioning what sells to the public at retail stores adds to the value of your sales discussion. Apparel influenced by the style, colors and performance features of products already seen in stores nationwide makes selections more attractive.
Mention technical features. Since outerwear is partly about protecting us from cold weather and the elements, ASI says you should demonstrate how technical features perform.
Reference brands and suppliers. ASI states that reputable brand names create positive impressions by association and that "almost half (49%) of all clients seek brand-name apparel", according to the Wearables 2016 Sales Forecast.
Even if your SMB customers aren't high-tech firms (maybe they want to do business with tech firms, for example), they can use wearable promo products relate and appeal to their customers or partners.
While you make the best wearable recommendations for clients, Idea Custom Solutions will provide the highest quality embroidery digitizing and other graphic services you need, including vector artwork, image editing, logo design and marketing material design. Check out some of our designs.