Last summer, LinkedIn's Pulse ran an article stating something that almost everyone in business probably knows: salespeople are very competitive compared to other humans. Business data scientist Ji-A Min wrote that "Popular opinion argues — and research shows — that competitiveness is correlated with selling success."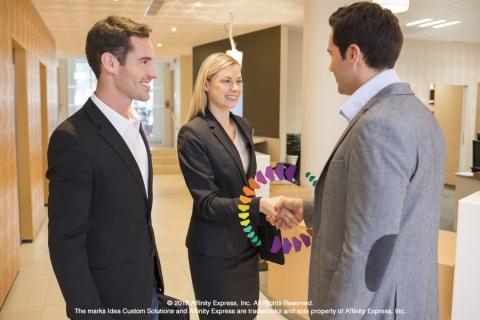 She also points out that when one's sense of competition is personal — as opposed to trying to make quotas or win contests — this is when it translates to sustained success in business. According to a study by research firm Valenti that Min cites, three things are critical.
•    Personal victory: The desire to win for the sake of it or to be superior
•    Enjoyment of competition: Positive emotions associated with competition
•    Conflict: Comfort with risk and even conflicts in the pursuit of victory
With that being said, it's not fair to assume that all or even most top performers in business have a predatory mindset or a mentality of us-versus-them when dealing with other business professionals. Forbes published an article on the subject, stating that the best salespeople are those who see themselves as professionals with an expertise in the products or solutions that they offer.
"Business professionals speak to their prospects as people rather than view them as potential commission," writes Ken Sundheim. "Naturally, this fosters trust and eventual client conversion."
Perhaps a new phenomenon in sales entrepreneurship is the concept of personal branding. Automotive News recently reported that many salespeople in the sector seek to differentiate themselves with branding using a combination of self-promotion and product talk.
"Auto salespeople increasingly are promoting themselves — apart from their dealerships — with personal websites, YouTube videos and social media pages as a way to sell vehicles now and down the road. It's a trend akin to one in the real-estate world, in which salespeople promote themselves rather than their agencies."
AdAge argues that not only is this tactic of salespeople branding themselves and their expertise increasingly normal in business, it is indicative of millennials hanging out their own shingles in the business world. Additionally, salespeople like Laura Madison, a star performer at Toyota of Bozeman in Montana, said that her person-centric branding of salespeople not only boosts sales but also her customers' satisfaction. Madison's approach has been so successful that she has even spearheaded her own "social selling" course for car salespeople.
For distributors of specialty advertising and promotional products, these types of personal branders and self-promoters are exactly the people that you want to reach. While social media is part of almost every entrepreneur's game these days, there's still no better way to put a brand name in someone's hand than with logoed giveaways. In addition to auto salespeople, there are other markets with numerous ambitious professionals to target.
Realtors and Real Estate Brokers
As warmer months approach, realtors step up their showings of homes and buildings for sale, while always striving to get more listings. In many parts of the U.S., bigger sales are already blooming this spring.
From commercial to residential, business news organizations such as Money Magazine stress the importance of salespeople to anyone in the market either to buy or sell. But to capture opportunities to serve the public, most real estate pros realize the importance of getting their names out there.
Many real estate agents appeal to customers through reminder advertising. For example, magnets can go beyond useful business cards to become Major League Baseball schedules or calendars of local spring and summer events.
Realtors also can capitalize on warm weather fun with branded promotional golf, sports and summer recreation items. Specialty advertising product distributors should make sure to talk to real estate professionals about marketing options that make them stand out.
Financial Professionals
With all of the choices (and ambitious salespeople) in a vast marketplace, those who succeed over time do so by reputation. Insurance agents, stock brokers and financial planners know the value of having their names at prospects' fingertips.
Just when you thought everything went completely digital, we find that sales of pens are on the rise. Writing instruments are definitely one way agents can keep their contact info in customers' hands, but with promotional product sales rising across the board, there are lots of options for insurance and financial professionals to break out of the mold.
Industrial Salespeople
Gathering important information about your customers' future plans is very important to better understand their situations, writes Dave Kahle in Industrial Supply magazine. In heavy industry, accumulation of data and specifications can help professionals solve problems, but that shouldn't be their entire focus. He also hints that a longer sales cycle doesn't eliminate the need for a quick, succinct value proposition and good communication.
While the market may be less about traditional sales practices, name recognition still does help. Plus, engineers and tech people love useful items and gadgets too. After all, one promotional product, the ball point pen, was invented in the 20th century specifically to satisfy the needs and demands of engineers and other technical professionals.
As a distributor of promotional products and specialty advertising, the key is to demonstrate to these professionals how to extend their reach. The self-employed are often open to good ideas on how to grow fast. Don't hesitate to tap into salespeople, a market that is almost endless, as well as profitable.
If you want to build compelling proposals for these professionals, tap in the design skills of Idea Custom Solutions. We can add logos to product images, design compelling proposal templates and provide the vector artwork and embroidery digitizing you need for production of hard goods and wearables.