Not all of us are the "runner" type. It takes a special something to take on the task of completing a marathon. Just training for a race — even a half-marathon or 10K race — is a major commitment.
While avid runners take to the blacktop in cities nationwide almost every weekend of every year, major brands look to go the distance too. Just about every marathon, 5K race or walk-a-thon funds charities and has a roster of major corporate sponsors.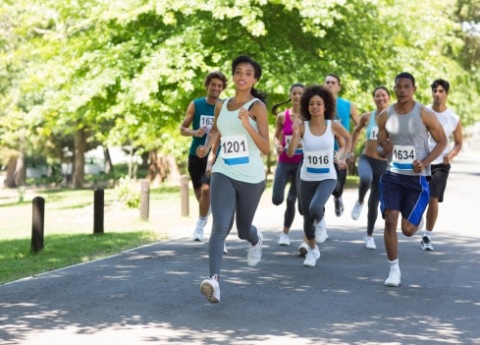 The famed Boston Marathon, which takes place in the spring, has Adidas as one of its top sponsors. If you are a runner skilled enough to qualify for the race, you receive an official Adidas training shirt, emblazoned with the Adidas logo and the Boston Athletic Association coat of arms. Other sponsors of the Boston race include financial giant John Hancock, which sponsors race bibs, as well as Gatorade and Clif, which promotes its brand by giving out nutritional bars.
There are also slightly less-rigorous races that don't require time-trial qualification in major cities. Races like the Chicago Marathon, sponsored by major brands like Bank of America, Gatorade and Abbott, provide sponsorship opportunities for local businesses. Zack's Investment News reports that the economic impact of the Chicago Marathon does more than boost major brands. It helps local businesses and charities raise funds well beyond their normal initiatives.
Most races aren't just a treat for those running to achieve their personal best, or hoping to score medals. Spectators, friends and family members of those participating are often on had to lend their support to the runners. Together, the participants and spectators constitute a huge audience of consumers.
Even running enthusiasts and the sports press have noticed. Active, an online magazine and website for runners — one that dispenses tips on training, fitness and health, plus news about the best races for runners and biking enthusiasts — featured an article on the "10 Races With the Best Swag".
"Today's races aren't cheap," writes runner/author Mackenzie Lobby Havey, who also notes that "When we sign up for a race we want to make sure we're getting our money's worth."
Often, companies give out higher-end branded promotional products and gifts. For example, Active says that runners in the Nike Women's Half-Marathon in San Francisco who finish the race receive a custom Tiffany necklace. Meanwhile, for outdoorsy types running the Leadville 100 in Colorado, they get a beautiful mountain view along with the ultimate wearable, the finisher's belt buckle.
If running, watching or even sponsoring the big races is not for you, smaller, theme-oriented races or "fun runs" can be a great way to plug your customers' brands. As Brit+Co highlights in its post about "18 of the Coolest Races", events like the Hot Chocolate 15K/5K, held nationwide, cater to serious and casual runners and offer great sponsor giveaways including hoodies, mugs and edible treats.
Likewise, the Elvis Is Alive 5K race, held in Chicago, might stoke the inner pop fan within your customers' ideal audiences. Stocked with refreshments like peanut butter and banana sandwiches (an Elvis favorite) and an Elvis-style pair of sunglasses for each runner, participants also get complimentary beer and beer-brand related giveaways from local brewer Goose Island.
For companies reaching into wide markets, logoed water bottles and drinkware are a favorite with average consumers as well as dedicated runners. As the Advertising Specialty Institute outlined in their most recent Impressions Study, branded drinkware is popular with consumers. More importantly, half of all U.S. consumers who own logoed cups and mugs use them at least twice a week, while also reporting that they are more likely to do business with the companies featured on the tumbler, bottle or glass.
Whether they cater primarily to local businesses or larger groups, make sure to point out to your clients that specialty advertising can go further than giving out free pens or gifts to their best customers. Fun runs and charity-races occur year-round in most parts of the United States, and offer an excellent opportunity to put companies' brands in the hands of new customers while supporting good causes.