Last week on the Idea Custom Solutions blog we pointed out three must-haves for any business that participates in trade shows. Granted, we mentioned the obvious: trade show attendees love to get promotional products.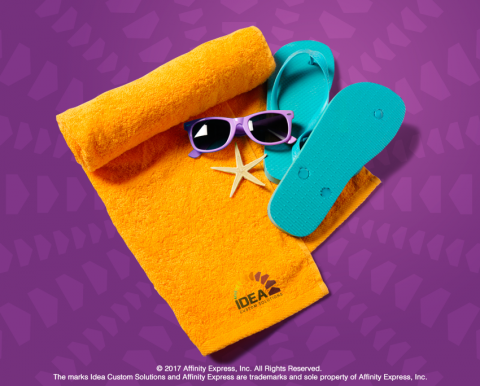 Another important fact is that businesses depend on branded giveaways to help circulate their names and their brands, while also acting as reminder advertising right in the hands of their future customers. So with summer in full swing and fall right behind it, we got to thinking . . .
Beach Fun and Sun
Before the end of March 2017, the Advertising Specialty Institute (ASI) tackled the subject of summer in their monthly magazine, Wearables. In the article "8 Hot Items for Trendy Beachgoers", ASI spoke with one wearables and promotional products provider who was red hot on summer.
"Beach apparel and accessories appeal to all demographics," said Charlie McGuiness, a national sales manager of a sport and outdoor promo products firm. He also added that a lot of what drives summer promotions is peoples' love of summer's opportunity to play outdoors. "There are so many social activities associated around the water."
Among the many summer promotional options are simple wearables like swim trunks, sun hats and women's swim suits and sport tops, all of which can be embroidered with the logos of businesses. Other items such as swim goggles and outdoor water toys are great for branding as well.
It seems that summer promotions are catching on and not just with companies in the vacation and hospitality sector. Brands such as Froot Loops (yes, the kids' cereal) have begun to add sunglasses to their branded merchandise. And last summer, even rideshare company Uber got into the summer giveaway game.
The firm (which does all of its business electronically) used social media in launching their BEACHBAG2016 promotion, a measure to gain riders and app subscribers by offering a "beach bag" full of Uber-branded summer promotional products. Uber's swag bag of goodies consisted of towels, sunglasses, sun and skin care, espadrilles' gift cards, protein drinks and more.
Though Uber might have brought ride sharing to the mainstream, the firm is definitely not the first to employ beach towels and other sand specialties as a means to tap into customers' summer excitement. ASI published a list two summers ago with other examples of branded beach towels distributed by companies including Corona beer and Blue Diamond snacks, as well as SMBs. Among the options were heavy-duty cotton terry cloth towels in all colors and bamboo fiber towels, which might appeal to the environmentally-conscious consumers.
Beach towels and outdoor fun items are great for spring and summer and are also useful all year for indoor recreational adventurists — think as people who swim at health clubs and indoor public pools. Even better, Americans who vacation in warm places will continue to uses their summer promos year round.
Football Season Looming
While you're all caught up in the summer fun, let's not forget that football, America's most popular sport is just around the corner. By the end of August, the Top 25 polls and predictions are out and college football is in full swing. Just weeks later, the NFL starts dominating Sunday, Monday night and office conversation.
Last fall, we shared on the Idea Customs Solutions blog that football (like all sports) is a major source of fun and relaxation for Americans from all walks of life. From team color wearables and spirit wear to sport bottles and those kitschy but classic foam #1 fingers, businesses of all sectors and sizes can greatly boost visibility and the name recognition of their brands by "getting in the game", tapping consumers' love of sports with their own promotional giveaways.
Put simply, promotional products distributors can help their small business clients score touchdowns throughout football season. It's time to talk to SMBs now about how they can kick off a profitable fall.
Idea Custom Solutions provides promotional products industry suppliers, distributors and decorators the vector artwork, embroidery digitizing and other graphic services they need to deliver quality hard goods and wearables.