"Hi! Um, my name is Sam and I'm just calling to see if you're interested in [click]" Ugh! Cold calling is the worst, right? It's an unfortunate part of business, though, one that everyone must do at some point in their careers — especially if they are trying to sell promotional products to new customers. How else do you reach people beyond the ones you already know?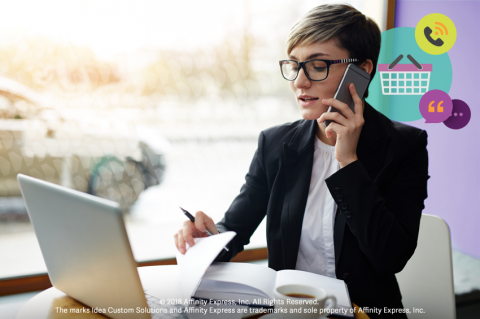 "Cold calling is frustrating, but it's a necessity, and salespeople have to learn that skillset if they plan to be successful in real sales — not in account management, but in sales for new business," Stephan Schiffman, author of Cold Calling Techniques That Really Work, told ASI back in 2015.
He's still right three years later, but thankfully cold calling doesn't have to be such a gut-wrenching experience anymore. With the right method and some smart strategies, the calls can be more productive than you think. They may even become (gasp!) something enjoyable to do during the workday.
Do Some Slight Stalking
The traditional tactic of targeting your calls holds true today, but with all the powers of the internet we have even more ability to tailor cold calls to specific people. Once you find out whom you need to speak to, inform yourself. Check out their social media, see if they have a personal website and browse their LinkedIn profile. Maybe you went to the same school. You could start off by referencing that and mentioning you saw it on their LinkedIn profile. Or if you have mutual contacts, start the calls referencing those people. It's particularly helpful if you can get your contacts on LinkedIn to put you in touch with their contacts. Amanda Johns Vaden told ASI it could sound something like this: "I know my name doesn't ring a bell but how do you know Jimmy Choo?"
Stop Selling and Start Socializing
It's simple: talk shop. But not your shop. Rather, discuss your potential customers' shops. Don't start off discussing how you want to help their businesses grow with your company's promotional products. First, make sure they can see that you understand their businesses. Brandon Gracey, VP of Sales at Handshake Corp., told Promo Marketing Magazine that the best cold call he'd ever seen was when a sales rep started out chatting with an optical industry player about the "consolidation and vertical integration" of the potential client's industry. The sales rep barely knew anything about the actual business, but that call ended up with a meeting and a deal. So, don't make it your first point to hawk your wares. Instead, start by engaging buyers with conversations of personal interest to them.
Hang Up the Phone
It's a Millennial world, and you must be a Millennial girl. Er, person. Well, salesperson. Studies have shown that 60 percent of Millennials prefer to be contacted through email, even eclipsing text messaging and social media, which both ranked at 13 percent. But to do it right, you have to do it their way. This means making a personal connection. If you and your Millennial targets have mutual connections, note that upfront, possibly even in the subject lines. Don't pitch too hard and don't send form newsletters as initial contacts. Above all, offer deal or discounts for when they decide to work with you. Another 60 percent say they're most likely to interact with someone emailing them with notifications sales.
Once you do close those deals, Idea Custom Solutions can help with everything else — from business card and marketing material designs to virtual samples and vector artwork for fulfilling product orders.