What is good design? While there is some subjectivity to it, there are certain principles in that dictate what good website design. And unless you are an expert in the design and coding of business websites, your tap the expertise of professionals, so that you can do what you do best and focus on your company.
When considering an upgrade or added functionality to your business, it is helpful be aware of what is trending and commonplace for today's website in the business world.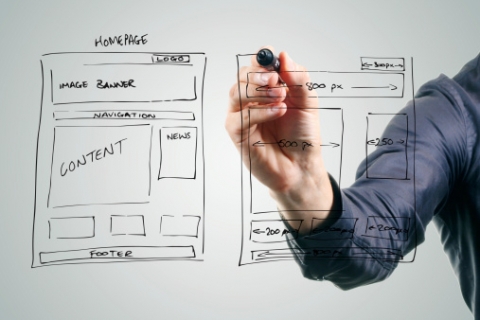 Clean, Crisp Look and Usability
According to an article featured on The Next Web, getting a visitor's attention quickly is important. First, flat and simple design with minimal use of color combines well with "clean shapes" and easy to read typography. That being said, many businesses are using full-screen video and other interactive elements at the top of their webpage. Video can be a useful centerpiece to tell your brand's story, and can be incorporated without being overwhelming or feeling loud.
A great website is one that not only looks good, but is easy for anyone to use. Whether you are a tech geek or just tech-savvy enough, useful website is one that doesn't require too much work to get what you need from it, right away.
Don't forget that menus and other clickable items can drop down when the user initiates contact with them, so that you don't muddle the look of your site or take up space better saved for other elements.
Additionally, the colors that you choose should definitely correspond with your brand. Just like with your logo, make sure the colors you choose — whether "exciting" colors like red or orange, or "trustworthy" colors like blue and brown — evoke the moods and impression you are searching for with your customers.
Something Old, Something New
If you are familiar with the fast food outfit called Shake Shack, you probably have either had their burgers, or have heard about their popularity as of late. The firm has made a huge splash with younger customers, especially millennials and has done this largely through social media.
Earlier this year it was reported that Shake Shack had ramped up with lightning speed, gathering up 160,000 Instagram followers and promoting the relatively small fast food chain's brand by courting interaction with young burger-loving customers. With only 63 locations (versus 36,000 McDonald's locations) this tiny upstart is making waves.
But social media isn't the only quiver in Shake Shack's digital marketing approach. Noting the importance of graphic design, the firm has carefully crafted its logo, marketing schematic, and branding with a touch of nostalgia.
As Wired Magazine points out, the restaurant chain has reached back to the past for inspiration. Shake Shack's new logo and website bears a 70-year old typeface called Neutra. This font gives the restaurant chain's marketing efforts a savvy, retro look, yet one with a crisp touch of 21st Century class.
Better yet, Shake Shack's choice of color — a green shade, reminiscent of neon lights — might be the key to separating its brand from the pack. Many of the firm's top competitors, such as Burger King and even smaller chains like Checkers and Sonic, all bear logos with combination or red and yellow.
Wired design aficionados also think that the logo's mood and flavor intentionally complements the architecture of Shake Shack's physical locations "beautifully."
Avoid Clutter and Out-of-Date Elements
Although not an official expert in the world of graphic design, BuzzFeed does grab a lot of attention from internet readers for good reason. In a post titled, "17 Ways to Make Graphic Designers Cringe", BuzzFeed pokes fun at bad design, while suggesting some no-brainers as to what works and what doesn't. Sparing no one, the author of the post covers font choices on everything from websites to product packaging to old signage.
BuzzFeed's funny but useful post implores readers to avoid loud colors and big "attitude fonts" that distract and confuse people, while also advising a little restraint in design.
Going a step further, a small business website Business2Community encourages business owners to keep current with website technology and design trends. Whereas eye-catching features such as Flash intros and 3D embossed fonts were once the standard, certain features when used improperly can look out-of-style. They also suggest you be wary of using stock photos that look awkward or canned, as they can give your website impersonal look.
Moreover, remember for millions of people, the smart phone has become the way to surf the web and do business. We can't say it enough: it is important to make sure you have a website that is mobile-friendly!
Integrate Your Marketing
Websites and social media are a big part of the marketing conversation in 2015. But don't forget about the other very important channels. Maximize your digital marketing efforts by integrating with print marketing. If you don't have point-of-sale materials, brochures or mail marketing collateral, you should.
While digital is important, quality printed materials not only add a professional touch and an established look to your business, their tangibility will also keep your business front-and-center for customers in the market for your services. Make sure your website URL is featured on everything print and digital.
The key takeaway: there is a lot to learn about websites. But when working with a professional resource, launching a crisp, beautiful, mobile-friendly website can be easier than you may think.