Last fall Eater, a prominent online magazine that covers everything culinary from fancy food brands and the charm of local diners to flatware, hotel bar matchbooks and promotional accessories, made an interesting declaration.
The publication dished out a brief narrative of the koozie, naming this cylindrical and often foam-based drink holder that was specifically designed to keep beverage cans and bottles chilled "America's favorite beer companion".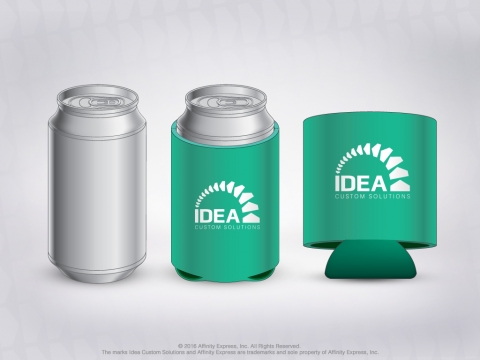 Supposedly this now-classic drink holder, which is also known to some as the "beer cozy", "beer jacket", or "drink huggie", has a legendary and elusive history. According to Eater, this simple contraption for keeping drinks cold and hands warm originated in Australia before crossing oceans.
"In America, the koozie didn't rise to prominence until the synthetic-material-loving, brand-happy 1980s," Eater's Sarah Baird writes. "The first iteration (known as an 'insulated drink cozy') was patented by Idahoan Bonnie McGough in 1981 and specifically designed for use 'with cold drinking utensils such as a 12-ounce beverage can.'"
Whether McGough intended for the koozie to be a mass-market hit on the shelves of every Wal-Mart or mom-and-pop shop nationwide is not known. And while there are no hard statistics from the Advertising Specialty Institute (ASI) yet on the koozie's reach and usage, somehow it has become a favorite promotional product offering.
Beer holders, koozies or whatever you want call them have long been popular giveaways at trade shows and events. Beverage companies, bars, restaurants and even small businesses outside the food and beverage sector have stirred up sales of these promo products.
Drink Things by the Numbers
Of course, drinkware and drink-related accessories is a no-brainer for any company in the beverage industry. But consumers easily cozy up to drink products too. Users stock up on branded drinkware in part because it is free. In addition, according to page 11 of ASI's Impressions Study report, consumers believe the style and look of the free drinkware is as important as the fact that they will use it at least two to three times a week.
Taking a look at ASI's latest infographic on drinkware, we noticed a couple of important points:
21 percent of U.S. consumers own and use branded drinkware. In some places like Phoenix, Arizona, where the weather is warmer all year, the use is much higher.
39 percent own a promotional coffee mug, an item widely used both at home and work.
24 percent of women own drinkware, suggesting free cups and bottles are more popular with women than men.
Drink is Just Part of Life
We mentioned recently that a number of sectors from advertising to high tech firms offer "welcome kits" for new employees. Digiday cited that useful items like coffee cups are a standard part of the mix, while some lucky company newbies might end up with a logoed water bottles or mugs, and even branded bottles of wine. It seems that, throughout corporate America, beverages and their accessories are always top-of-mind.
Some of the impetus behind the expanding use of water and beverage bottles comes from interest in keeping hydrated, even while on the go. At the same time, drinking accessories — especially the ones that keep liquids cold — venture way outside the office suite. For example, drink cups, mini coolers and other reusable items are a key part of camping and picnicking sets.
Just as there is an enduring interest from consumers in low-tech favorites like bottle openers, Small Biz Trends noted this year that another retro item, the drink coaster, has found a new place doubling as a smartphone holder.
While major corporations can invest marketing tactics such as billboards, newspaper print ads and TV/radio advertising, such methods are out of reach for SMBs. For them, using everyday items like drinkware to keep their brands in mind and at hand at all times is much smarter.
Look to Idea Custom Solutions as you serve your SMB customers who are looking for smart and simple ways to promote their brands. We have worked in the promotional products industry since our founding. Our goal has always been to help distributors serve tens of millions SMBs with the best variety and quality.