Let's say one of your customers wants to promote his or her business. As a provider of specialty advertising and promotional products, there is a lot you can offer small and medium-sized businesses (SMBs), from drinkware to desk toys, and  wearables to summer accessories.
Now, let's say that your enthusiastic small business owner is one without much design savvy. Maybe he or she wants nothing "flashy" but is satisfied simply by slapping a business card on a shirt and calling it a day. Or maybe you have a customer who wants their t-shirt to list every service they offer, hours of operation, contact info and so on.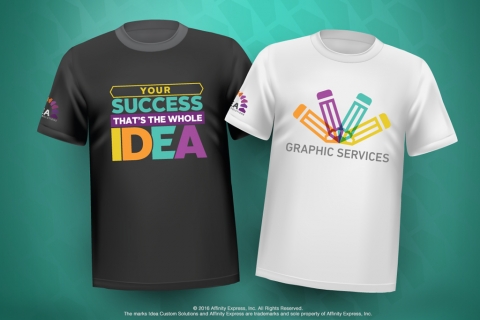 How can you convince them that look is everything and an effective design for their t-shirts is essential? The solution lies in communicating ideas.
Let Logos Speak
It's generally accepted knowledge that strong and memorable logos are important to businesses. Yet, some small companies might be apprehensive to change what they have. Others might think a re-design effort is prohibitively expensive.
But according to Inc., logos and brandmarks are part of consumer psychology, not just a feature of advertising. "Your logo is part of your brand," writes marketing expert Larry Kim. He also says that the elements within your logo depict who you are and what your company offers its customers.
Within the post, Kim also points out that 93% of purchasing judgments are made based on visual perceptions, while nearly 85% of customers report that color — either within a logo, in packaging, or within the actual products — influence their purchase decisions.
Thus, by helping your SMB customers to select logo designs for their businesses, you're not only helping them speak their brand, but also reel in customers.
Look and Message Matter
Your customers have killer logos. Now what? When a strong logo is balanced with smart t-shirt design, its graphic appeal makes it memorable (and all the more wearable).
Think about and discuss with customers those freebies that you both keep and wear. What is the difference between them and the stuff that gets donated? Good and thoughtful design, that's what!
With that in mind, the most powerful tool to help buyers see the difference is to create side-by-side comparisons. Show them samples or mockups of shirt with just logos and others that include logos with complementary graphic elements. Consider themes — along with images and colors — that help tell stories, and compelling ones, to target audiences.
Talk about Features and Options
Once your customers are excited by the designs for their t-shirts and other wearables, it's time to execute. A recent infographic published by Idea Customs Solutions explains the various steps in creating t-shirt masterpieces.
Every wearable design project is a little different, but here are three major things to tackle with customers:
Select the shirts. Pick the right texture, thickness, fabric composition and other specifics for the images you will produce on the shirts. If customers need white lettering or designs on dark shirts, for example, make sure to discuss the additional measures (and cost, if any) with them.
Review and solidify designs. Make sure the logos and shirt designs accomplish the overall feel and message customers want to achieve. Is it a funny, bold, masculine or delicate look they are looking for? The images, colors, and fonts have to match the mood.
Tap the right partners for design and production. Idea Custom Solutions can provide production-ready files that will work for your decorators' processes. We even have a dedicated team that will develop original creative designs for t-shirts (Look for Custom Creative under Artwork in our IDEA order management system). Select decorators based on their capabilities to achieve the desired output, including equipment, special techniques, turn times and more.
Let customers know they are not limited to primary colors when decorating t-shirts. ASI detailed in a website April post in Wearables Magazine, that options in 2016 are better than ever before.
Jesse King, an operations director at WearMagic points out: "Liquid silver, metallic gold, clear ink, glow in the dark – they've all been a huge hit for us this year." Moreover, King said that the "collegiate market loves the glow in the dark because they order shirts for basketball and hockey games," especially when they hit the lights for that exciting moment "to announce players (when) all the shirt designs can be seen."
There is also laser etching which is best for garments made from 100% polyester, as well as discharge printing, which is an option best suited for a thinner, softer decoration on shirts and wearables that have a "worn in" look, or more vintage throwback appeal.
Whatever market or audience your customers target, attractive designs can be developed for their t-shirts that go well beyond simple logos. Take time to show them a variety of options, and how their business can really stand out. They will appreciate your expertise!