Have you heard of whale hunting? It's a clever play on landing your white whale, meaning catching that dream account you've always wanted. Some promotional products companies, though, are afraid to do a bit of hunting. Either they think they're too small, don't have the resources or they're just fine surviving on the profits from several small accounts. And that's understandable, but why limit yourself? Companies of every size and scope can land massive accounts — the ones that pay all your bills in one single order. You just need to know how to do it. Follow these tips for landing and working with your dream account.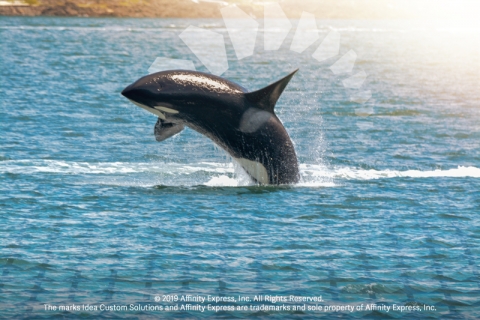 Find Someone to Refer You
With large companies, it's often nearly impossible to figure out who exactly you should be speaking to in order to make a sale. Try to get in through the back channels with a referral. Decide which company you want to work with and scour LinkedIn, Facebook and Twitter. Hopefully, you'll have a connection on some level to a person in the company who can either find out who you need to talk to or put in a recommendation with the powers that be. If you don't have any mutual connections, maybe someone you know does. Or you can just try to reach out to whoever has been in the news lately as a new hire there.
Don't Hold Your Breath
Big companies sometimes move at a snail's pace. Don't expect the same speediness you get from much smaller companies. Once you've got the right person in your sights, you'll likely have to submit a proposal for the project you want to work on. Then revise that proposal. Then revise it again. Then negotiate on price. Then wait for umpteen levels of approvals. It's a lot of tedious work but, in the end, it's worth it when you get that big check. Make it easier on yourself by asking the company if they have a timeframe and budget in mind, in which you should be working.
Be Available
Big clients come with big problems that can spring up at the last minute. They have a lot at stake. For example, if one word is printed wrong on the company shirt, that could possibly be an urgent issue affecting hundreds of thousands of people. You'll need to make sure you can be there for your client whenever they need you, even if that means nights and weekends. Larger companies don't want someone who puts in a few hours to get an order and then bails. They want a partner: someone they can go to again and again. That means making sure you're ready to help when they need you, but also continually reaching out proactively to see how you can help.
Want to put together beautiful marketing materials and sales proposals to share with potential clients? Give Idea Custom Solutions a call and we'll help you with all the graphic design to make your case (and the vector artwork and embroidery digitizing for decorating the promotional products themselves).